There are some places where we set down roots for the practical reasons—maybe it's for a job, good schools, or your proximity to the closest shopping district. And then there are those places we choose purely for the beauty, the lifestyle, and the joy a destination brings us. If this is your forever home, kudos to you. For the rest of us fortunate enough to own one, this type of dreamy escape is often categorized as a vacation home.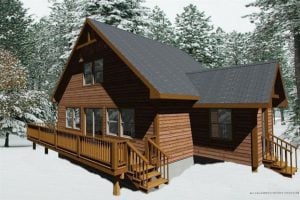 While vacation homes can exist anywhere from the mountains of West Virginia to the glaciers of Alaska, many people choose to find their bliss by the water. Research shows that merely being close to a body of water can promote mental health and happiness.
19 percent of all homes in Maine are classified as vacation homes, and it's no surprise: Maine has its perfect summer weather, stunning scenery, buttery lobster, and a ridiculous amount of craft beer. They don't call it Vacationland for nothing.
Maritime towns like Bar Harbor and Kennebunkport consistently wind up on the vacation bucket lists of travelers from near and far, but that doesn't mean that all vacation homes in Maine are on the coast. And though the data shows a higher percentage of vacation homes on the coast, the mountains and lakes regions in Maine also offer a spectacular landscape for a home-away-from-home.
Whether you're looking for a camp on the water, a condo on the slopes, or something in between, there are a variety of options to choose from, especially in the greater Sunday River region. If it's time to set down your roots here full-time or part-time, get in touch with the Sunday River Real Estate team to begin your search.