The Holiday season is in full-swing, party invitations are in the mail, and your guest list keeps growing. Excitement and anticipation are just a few of the feelings that come to mind when thinking about hosting for the holidays but, stress and anxiety can also take hold.
At Sunday River Real Estate, we love to host, and we want to share a few of our favorite tips and tricks with you.
Make a plan
In order to enjoy the party, you need to plan the party. From invitations to the menu, having a plan in place is crucial.
Break your timeline for preparation down by brainstorming what can be done two weeks, one week, two days, or the day before your soiree. In doing so, you eliminate some of the added 'Holiday Stress' we have all experienced at some point in time.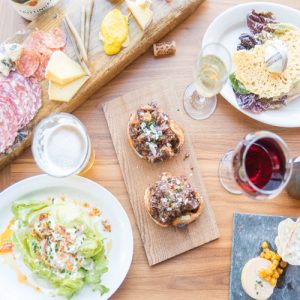 Your guest list and invitations? Lock these essentials down two weeks in advance. Whether you send out e-vites or handwritten invitations, allow yourself enough time to plan your menu accordingly. Your menu will be a focal point throughout the night; contact your local caterer or pick up ingredients from your grocer one week prior. Save the cleaning and final touches till for the day before your celebration. Last but, certainly not least, spend the day of your party setting the table while dancing around the house to your newly curated holiday playlist!
Find your local cheesemonger for your array of seasonal cheeses
No holiday party is complete without a charcuterie board designed to perfection. Check with your local grocer, or in our case, The Local Hub and the Good Food Store to see what your neighboring cheesemongers have been up to this holiday season. Not sure which cheesemaker you want to try this holiday season? Take a look at the Maine Cheese Guild to learn more!
Cook ahead of time
Save yourself the stress the day of your party by cooking ahead of time. Stews and soups? Cook them a day or two before your party. Quiches and pies? Spend your weekend off the weekend before prepping those dishes. Once you're done, pop them in the freezer and check one more item off your to-do list. Maybe cooking might not be your strong suit, or you simply don't want to cook this year; in that case, reach out to a local caterer for the perfect holiday menu.
Stock up
From crackers and cheeses to powder room supplies, it is best to prepare in bulk when it comes to the holidays. Your sweet Aunt Becky might spill some of her wine on the hardwood floor, and you'll be thanking yourself later on for grabbing the 6-pack of paper towels.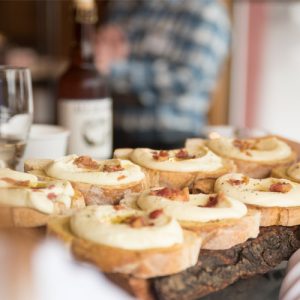 Put the champagne in a bucket of ice water
It's time to make a toast and bring out the bubbly, so that means taking the right steps to prepare it. A common misconception in the events and hosting world is to put your champagne in a bucket of ice. We recommend instead, letting your champagne chill in a bucket of ice water for 20-30 minutes prior to your toast. By adding water to your ice bucket, you assure the entire surface of your bottle will be chilled to perfection.  
When friends and family offer to help, let them
Hosting family and friends can be a stressful task in itself, taking it on by yourself takes things to another level. When your sister-in-law offers to cook a stew for your holiday party, or your best friend suggests a wine & cleaning session the night before, take them up on it.
Once you've used all of these tips, your holiday hosting should be dialed in so you can enjoy the party!