When you think about a mountain house, you probably picture a traditional; cabin style home with antler chandeliers, red plaids and an overwhelming amount of wood and rock. Nowadays, that look seems to be fading, and a more contemporary look with cleaner lines emerging.
The Inside Scoop
To get the inside scoop on up and coming trends in mountain homes, I talked with Tony Andrews, a house designer and owner of AVA Woodworks, Bruce Lilly of Clearwater Builders and David North of David North Construction.
Tony Andrews of AVA Woodworks
Andrews has designed several homes in the Sunday River area and, according to Tony, many homeowners are no longer looking for your average log cabin chalet. Instead, they want a more updated look with sleek lines, while still including a mix of both wood and metal finishes for a design that he refers to as modern rustic.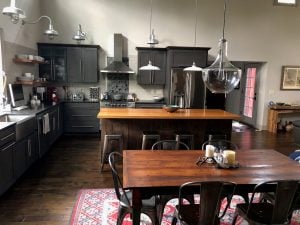 While an abundance of windows is still part of any mountain home design, Andrews's designs often feature square shaped windows instead of more traditional style windows. Standing seam metal roofs are also gaining in popularity, which Andrews pointed out is not only a practical option but, also tends to give a more contemporary look. This desired look coupled with stone and wood finishes now create the idolized modern rustic home many skiers and riders hope for in their vacation home.
Bruce Lilly of Clearwater Builders
Bruce Lilly of Clearwater Builders has also noticed the shift in trends, noting, a contemporary look meshing with rustic features. For example; modern kitchens with floating shelves instead of upper cabinetry or, wall mounted faucets and vanities. Finishes such as those often are paired with rustic elements like sliding barn doors and exposed beams. Lilly pointed out many color tones are trending away from the browns and more towards subdued gray & natural tones.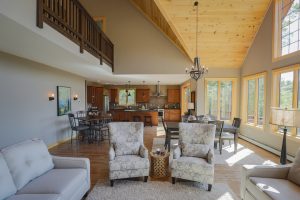 David North of David North Construction
Local contractor David North of David North Construction pointed out his clients are often looking for practical spaces to optimize the function of the home while still showcasing an attractive design. For instance, strategically located pantries with a built-in bar or built-in bunk beds. Finishes include wire brushed flooring and industrial hardware with a contemporary clear glass pendant light fixtures.
There are a lot of options to consider in building your mountain home. If you are going for the rustic modern look, think of streamlined shapes and modern amenities.
Last but not least, do not forget a few unexpected touches to make your mountain home feel special to your family.
ABOUT THE AUTHOR