When looking into building a new home, there are a few options to consider, especially when stress levels, pricing, and customization are on your mind. Here, I will go into the differences between a speculative and custom built house.
Speculative Homes
A speculative builder often purchases a large tract of land to sub-divide or multiples lots at a discounted rate and specs homes on the lots. Most often, the home is put on the market when it is somewhat near completion; the builder may be able to offer the home buyer choices such as paint color, flooring, and cabinets.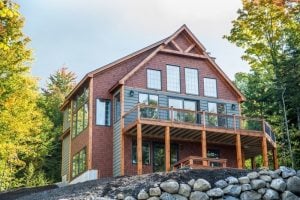 Oftentimes, the same building design is used over and over, giving way to the term cookie cutter. Typically, there are few options from which to choose, cutting down the stress and day-to-day decisions of building from scratch. This is a key factor considering the nature of our second home market. The developer/builder also finances the home until it sells, eliminating the need for a costly construction loan. Regardless of the price point, speculative homes offer value and cost savings for home buyers.
Custom Built Homes
A custom home is unique and one-of-a-kind—usually designed and built from scratch. This process involves collaboration between the homeowner, the architect/home designer, and the custom builder. The lot is typically the driving factor in the design and construction. Custom home builders tend to be associated with high quality work; of course, all of this flexibility comes at a price.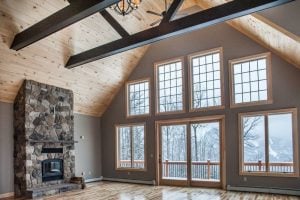 Recently, we have seen a new trend evolving; several area speculative builders are melding the two creating semi-custom homes. Oftentimes, the "custom" part of the process is the collaboration between a home designer, a broker, and the builder. The developer/builder still finances the project but a potential Buyer does not end up with a cookie cutter home eliminating the stress or setbacks of a custom built home.
For example, the photos from this post feature a David North home that was recently sold; it showcases the semi-custom homes that speculative developers in our area are building. As always, the brokers at Sunday River Real Estate are happy to connect you with area builders/developers to find the land and home design you've been searching for.