In preparation for ski season each year, Sunday River Resort has a list of projects, new products, and inaugural events that they roll out for the season. Here's what's new for 2018-19 in Newry, Maine! It's the perfect time to start looking for your winter getaway.
Capital Improvements
Phase One: Double Snowmaking Capacity
The most significant project for this year takes the first step towards doubling the resort's water capacity for snowmaking. The renovation includes nearly two miles of newly-engineered ductile iron high-pressure pipe and a new 600 horsepower pump and will increase capacity for the 2018-19 season by 15 percent.
Sunday River has continually invested in its snowmaking capabilities over the years to provide skiers and riders with the most dependable snow in New England. Upgrades to the system's infrastructure will remain a priority in the future in order to maximize the potential that this summer's upgrades will offer. Presently, Sunday River's on-mountain snowmaking system services 90 percent of the groomed terrain, and includes 2,000 snow guns, most of which are energy-efficient, 2,200 hydrant stations, and over 80 miles of pipe.
Enhanced Learning Terrain 
In an effort to increase the usable terrain outside of the SnowSports School in the South Ridge Base Area by two acres, Sunday River recently completed a project to fill in a small ravine where the Sundance and Ridge Run trails intersect. This change in terrain will offer better skier flow through this high-traffic area, an improved experience for those visiting us to learn to ski or snowboard, and will allow the SnowSports School some additional space to gather, organize, and lead their group and private lessons.
Sunday River will now be able to incorporate terrain-based learning for beginners to learn more quickly and efficiently. Terrain-based learning is becoming an increasingly important piece of the learning puzzle for the ski and snowboard industry because it gives beginners a "perfect slope" to practice these new skills. Terrain-based learning elements will be achieved by having our grooming team build elements out of snow to create the perfect slope surface.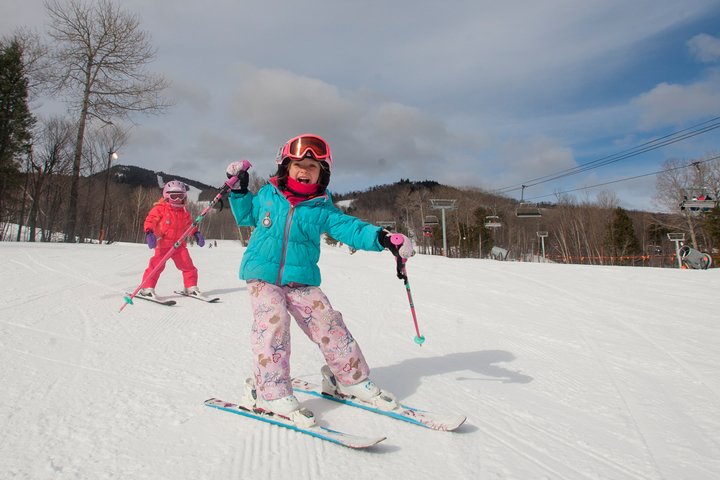 New Products
Ikon Pass Partnership
Sunday River Resort is proud to be an Ikon Pass partner, which allows purchasers to visit 35 ski areas worldwide with either five or seven tickets to the Newry, Maine resort.
Threedom Pass
With the new Threedom PassTM, guests get three days of skiing or riding at Sunday River to use anytime during the winter season, and then they can save 40 percent on lift tickets Sunday through Friday and 20 percent on Saturdays and holidays for as many additional days as they want. This allows more flexibility for skiers and snowboarders visiting Sunday River.
Inaugural Events
Holly Jolly Fun Run – December 1, 2018
Santa Sunday (December 2, 2018) has been a staple of Sunday River's event repertoire for many years. This year, the resort will have a Santa-filled weekend with the addition of the Holly Jolly Fun Run, a 5k with plenty of Christmas spirit. Proceeds benefit the Sunday River Community Fund.
Holiday Hangover – January 5-6, 2019 
The holidays often end up being a stressful season. This weekend invites skiers and snowboarders to unwind with fun on-mountain events, ski and stay packages, and parties galore. It's sure to be a favorite post-holiday tradition.
Telemark Festival – February 9, 2019 
A full day dedicated to freeing the heel, the Telemark Festival will feature demo equipment and special events for new and dedicated telemark skiers.